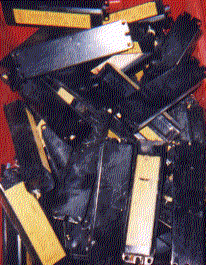 PCB Fluorescent Light Ballasts
Gary Steacy has a state of the art Mobile Ballast Reduction Unit to dismantle and reduce PCB fluorescent light ballasts to their individual components prior to incineration. The PCB's are totally destroyed and the metal components are reclaimed for recycling.

The ballast reduction process may be carried out on your site or the ballasts may be transported by MOE certified carrier to our destruction facility for processing. We offer a complete solution including site services to prepare all materials safely, transportation by certified carrier to our facility, management of PCB's and the recycling of metal parts.Our computerized tracking system ensures that all components are accounted for.
Our ballast operation is MOE certified, fully insured and bonded. At the completion of the reduction and destruction process, we will issue a certificate of destruction confirming the end of your liabilities and ensuring your peace of mind.
Contact us at 905-355-3046 Fax 905-355-5480 or e-mail
info@steacydismantling.com
Next
Home
Facility
Home
Transformers
Metal Recycling
Contacts